Good gear, smart building
---
13 Sep 2016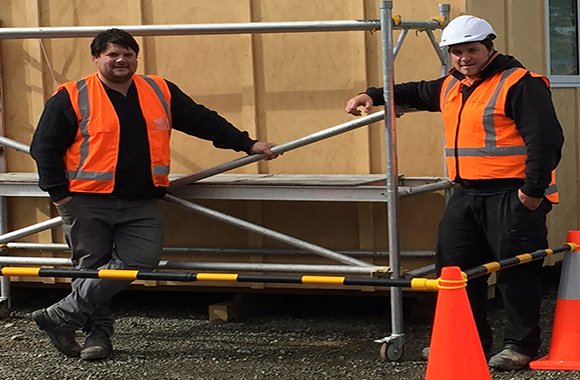 BB Construction directors Brendon (left) and Hayden Barnett onsite.
Investing in scaffolding is paying off for one Palmerston North building company, who say not only does it get the job done quicker and tidier, but safer as well.
Family-owned firm BB Construction has invested significantly in mobile scaffolding and up-to-date height and safety gear since launching the commercial, residential and rural building business in 2010.
Director Brendon Barnett, who runs the business with brother Hayden, started the business with just a handful of workers. Initially the company did a lot of labour work for hire and it was not long before the brothers, who are carpenters by trade, took note of the safety measures being used by other companies.
"When we started and when we worked for my father we were all wood trestles and planks. And when we went out on our own six years ago, it was sort of by the seat of your pants - we'd still be cautious and take all practical care but a lot has certainly changed now."
"We started picking up on things that other businesses were doing, like leading edge fall protection and doing them ourselves, but we didn't necessarily understand why or have a good grasp of the reasons behind it."
Brendon says they quickly realised adopting good health and safety practices and using good equipment could make the business more competitive if they got on to it right away.
"We thought it might actually be easier in the long run, just jumping on board straight away and actually doing a little bit of due diligence. We want everyone to go home safe so we realised 'hey, we need to take this pretty seriously' so the team can get home at the end of the day."
The company has since invested in scaffolding, height gear and new ladders and ensures everything is tested and tagged.
All the firm's 16 workers now have Site Safe passports and the foremen, as well as directors Brendon and Hayden, are all working towards their supervisors' qualifications. Brendon also plans to make sure their new workers receive First Aid training.
In addition, they now have regular team meetings, toolbox talks and a team breakfast once a month where health and safety is discussed.
The business has also recently started using an online safety programme to help manage its hazard and incident reporting and management.
Adopting a safer approach was all a part of making work onsite more efficient as well as safe, Brendon says.
"It's certainly a more pleasant place because there's no pressure on the team to feel that they need to do anything unsafe, and that is going to create productivity because they are happier and also because they have good gear to use.
"On a lot of jobs, getting the scaffolding out means doing a quicker and tidier job because you're not worried about where to put your feet or where you're standing, and we can do a lot more of our own roofing because the team feel more comfortable up there."
While the initial investment may seem challenging at first, Brendon believes good gear and scaffolding is simply a cost of business and should be treated as such.
"It's known quite widely that that's the industry standard and that's how we do things - and the costs of scaffolding are actually coming down as the product becomes more readily available."
And while both Brendon and Hayden have come off the tools, Brendon says they felt it was important they both took the Site Safe supervisors' course themselves so they could see what it was all about.
"It certainly opened our eyes to how much the team didn't know. There's so much out there that we didn't realise that we were short-falling on, and we've still got a lot of work to do. But it's owning the fact that it's always going to keep changing and we need to keep educating ourselves and the team."
"In our general meetings we've identified health and safety as something we want to be leading in, and we can't lead the team without knowing what we are sending them into.
"I wouldn't ask the team to do anything I wouldn't do and I don't think anyone else should be comfortable doing something I wouldn't do, and I think that attitude goes down the line as well."
So far their workers had responded well to the approach, he says.
"The team are responsive and are actually really eager to hear what we've got to put forward to them. Everyone is actually making the time to talk and say 'hey, how can we do this better?' - it's just about changing the old mentality of the Kiwi tough bloke.
"We've got to the point now where we've noticed a change in attitudes. People will grab a scaffold rather than just automatically taking a ladder – so that positive change is filtering down, and allowing the team to make changes as well."
A key part of their approach was workers being actively engaged at work, and not just operating on "automatic pilot".
"We really want to drive home that when they are at work it's 'cabbage off, and head on', as opposed to the other way around."